Kallithea, a member project of Software Freedom Conservancy, is a GPLv3'd, Free Software source code management system that supports two leading version control systems, Mercurial and Git, and has a web interface that is easy to use for users and admins. You can install Kallithea on your own server and host repositories for the version control system of your choice.
Kallithea 0.7.0 has been released with a potential security fix: announcement.
Built-in push/pull server
Supports both Mercurial and Git wire protocols, accessible over HTTPS and SSH. A powerful access management system lets you decide who has access to the repository, and what operations they're entitled to do. All requests are authenticated and logged, giving the administrator an ability to review users' activity.
Easy to integrate
Kallithea supports LDAP, making it easy to use your existing authentication system. You can integrate your instance with an issue tracker of your choice using the JSON-RPC API and the extensions interface.
Code review
Fork the code with one click, develop it and submit it for review easily using a built-in pull requests system. Review the code, comment on and discuss changes.
Contribute on-line
Edit code on-line using our web editor. Upload text and binary files without using your locally installed client, just your browser is enough.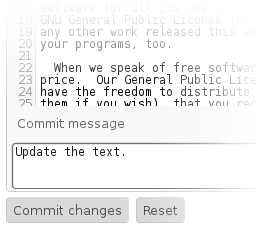 VCS visualised
Explore the changelog illustrated by the DAG graph. Review diffs in colour. Get commit statistics.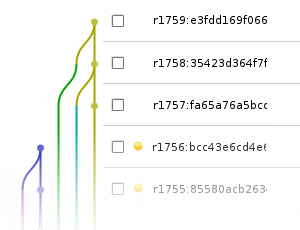 Why Kallithea?
Kallithea, or Καλλιθέα, is the name of a locality on the island of Rhodes, in Greece, which itself means 'the best view'. Our Kallithea project helps developers get the best views of their project and its contributions so they can better collaborate together. Additionally, see this Conservancy blog post about why Kallithea began.
Community
Do you have a problem or question? Want to contribute to Kallithea? Or maybe you just want to know more about the project? Here's how you can contact us:
Mailing List:

IRC:

Matrix (bridged to the IRC chat):

Reporting issues:

Please report issues to the mailing list.
You can still refer to old issues in the issue archive.

Contributing:
You can also follow us on Twitter: @KallitheaSCM.
Support Kallithea development
The Kallithea project welcomes donations to support our project, via Software Freedom Conservancy.
Donate by paper check
Send paper check donations, drawn in USD, to:
Software Freedom Conservancy
137 MONTAGUE ST STE 380
Brooklyn, NY 11201-3548
USA
Write "Kallithea Project" in the memo line of the check.
Donate via Paypal (including Visa, Mastercard, AMEX or ACH)
Donate via Flattr