Issue #188: Git changelog shows rainbow instead of a single coloured graph
| | |
| --- | --- |
| Reported by: | 557058%3Adea91e4c-e257-42be-bc28-2cf352c368c8 |
| State: | resolved |
| Created on: | 2016-02-01 18:01 |
| Updated on: | 2017-06-28 20:27 |
Description
For some strange reason, Kallithea fails to detect proper branch colours and draws entire revision graph like a rainbow: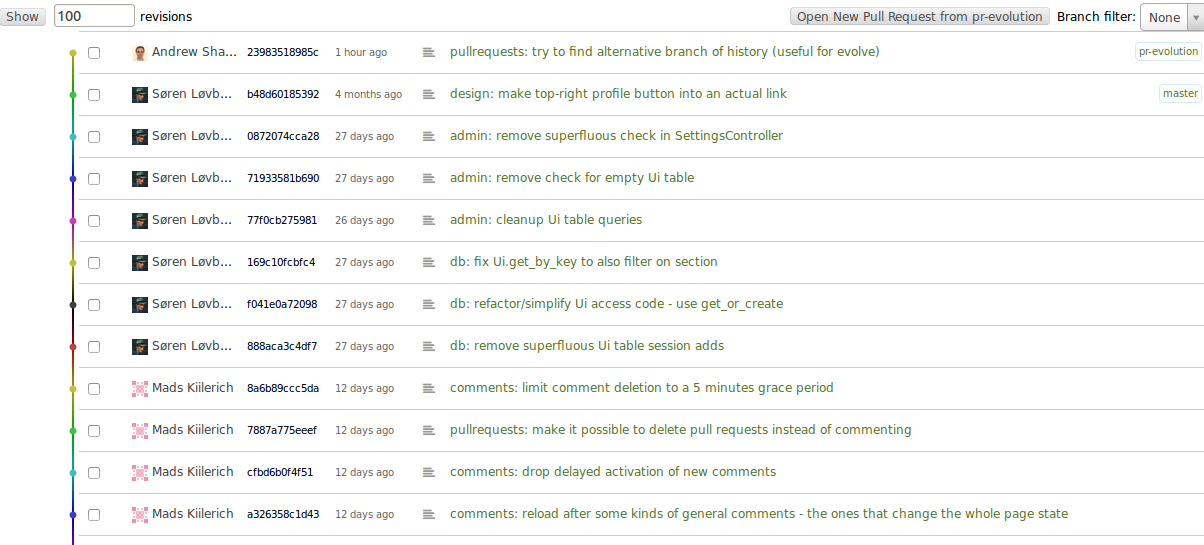 Attachments
Comments
Comment by Mads Kiilerich, on 2016-02-01 18:07
Yes. Git users should also have some fun! ;-)
I think it came when Aras introduced the nice colors for Mercurial graphs. Or perhaps when I made the colors more "sticky to the same branch name".
Comment by Andrej Shadura, on 2016-02-01 20:17
Comment by Andrej Shadura, on 2016-02-01 20:17
I think I have almost prepared a patch for this. But apparently I'm too tired to debug it now properly :)
Comment by Andrej Shadura, on 2017-06-28 20:27
Comment by Andrej Shadura, on 2017-06-28 20:27